The Louisiana State Penitentiary is a hard place to visit. If you want to take a tour, you can only do so in a group of twenty or more. If you're seeing someone incarcerated there, you can only do so on the weekend, prohibitive for those who work in the New Orleans tourism industry as do many who have family and friends at Angola (what the prison is commonly called, after the slave labor camp that preceded it). Just getting there can be an ordeal, a two-and-a-half-hour drive from New Orleans with no public bus routes. The Cornerstone Builders' Bus Project takes 55 passengers from New Orleans to Angola once a month, and in neighborhoods like Mid-City you'll find advertisements for ad hoc transportation. (The Angolite, a newspaper edited by men incarcerated at Angola, has been publishing ads for bus routes since the early 1970s, suggesting this is an old problem.) The prison is only open to the public for one weekend in April and four Sundays in October for its famous rodeo, where you can purchase knickknacks at the craft show and watch incarcerated people chase wild cows trying to milk them.[efn_note]A full schedule of the rodeo's events is available here.[/efn_note]
The Angola Prison Museum and Gift Shop, however, is open to visitors every weekday, and the women working the cash register assured me the visitors come. I perused the guest book: a single Tuesday in July nearly filled two pages. Most came from elsewhere in Louisiana, many from Texas and Mississippi, but people also came from as far as Oregon, Florida, and Pennsylvania. It isn't just a local curiosity; it's a veritable tourist attraction.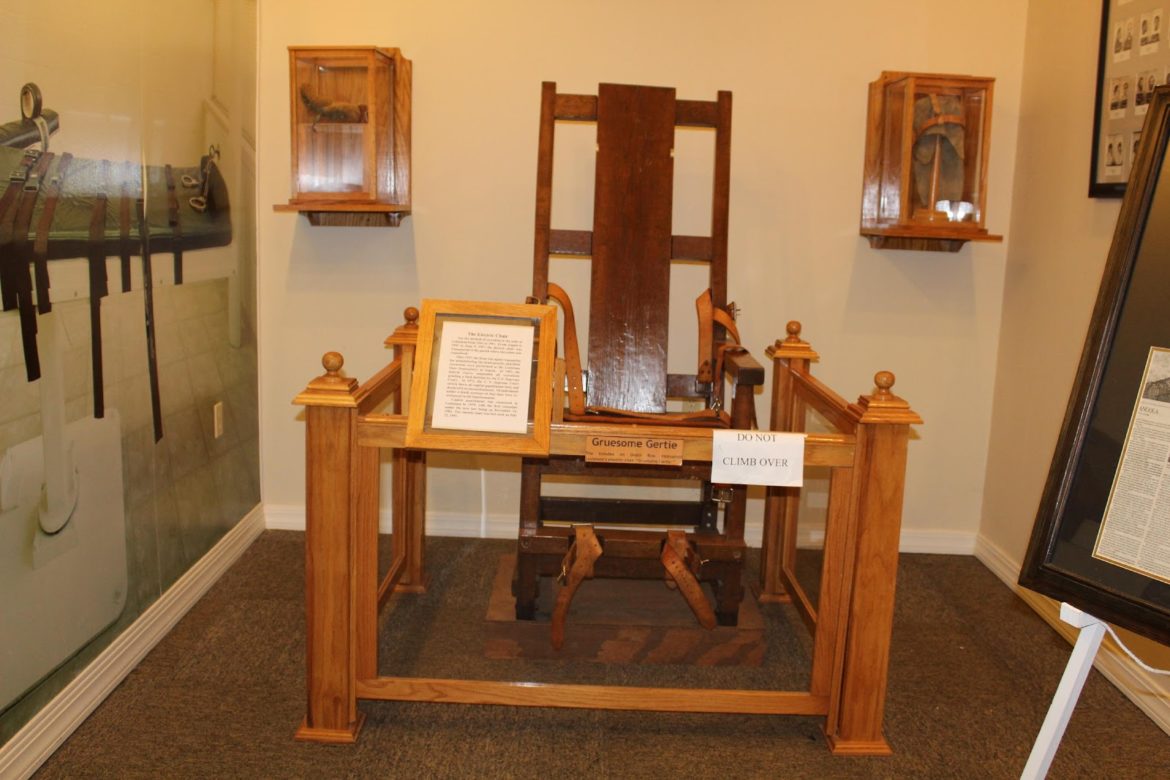 The museum devotes an entire small room to the rodeo: a small model of the prison during rodeo season, an exhibit case of old Angolite issues commemorating rodeos past. Another room is dedicated to death. (There's usually a hearse in this room, but it was removed for a funeral on the day I visited.) The electric chair known as "Gruesome Gertie" is positioned as a shrine, not to the 87 men it helped execute between 1941 and 1991, but to the chair itself. A memorial to "slain prison guards" includes Brent Miller, murdered in 1972, but makes no mention of the subsequent rounding-up of African-American prisoners and the eventual sentencing of Herman Wallace and Albert Woodfox to life in solitary confinement with little evidence.[efn_note]Woodfox was released in 2016 and has written a memoir: Solitary (New York: Grove Press, 2019).[/efn_note]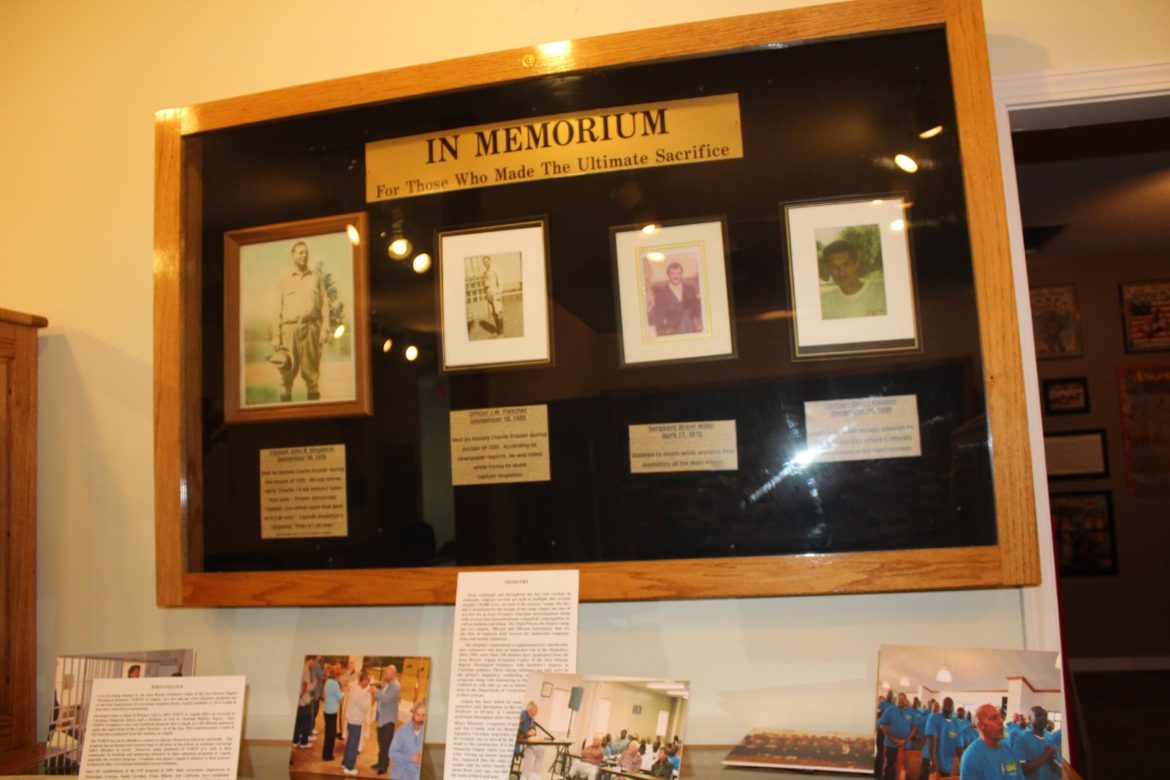 I was most interested in the gift shop, a small, well-organized room that greets you when you enter the museum. The merchandise at the counter was mostly books about Angola, along with pens, keychains, and postcards. But the rest of the store was filled with sweatshirts, tote bags, ball caps, and stuffed dogs: things you would expect to see at a tourist shop in New Orleans, not the largest maximum-security prison in the United States. There were boxer shorts and beer cozies emblazoned with the Angola logo, hot sauce bottles decorated with old-timey prison uniform pinstripes. Several of the items for sale—the hot sauce, the ashtrays, the mayhaw jelly—were, according to their labels, produced by men incarcerated at Angola.[efn_note]The penitentiary is a working farm, producing cotton, wheat, soybeans, okra, and other crops, around 4 million pounds of vegetables a year.)[/efn_note]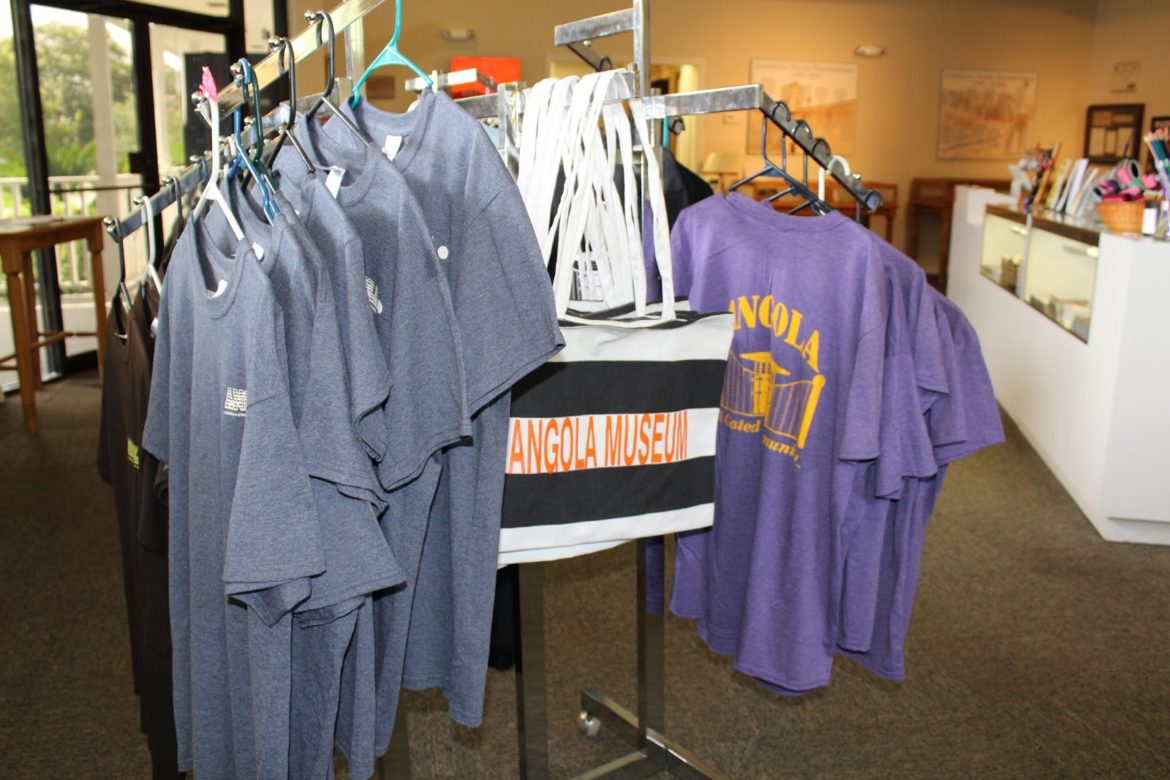 Why exactly do visitors come here, more than 120,000 of them a year? They're not coming to see loved ones; you can only do that, after all, on weekends, when the museum is closed. Perhaps it's because Angola has earned a reputation as the "worst" prison, making it a curiosity both for those who support mass incarceration and for those who oppose it.
But why a hoodie that says "Angola: A Gated Community"? The prison sells these things to make light of the lives of the incarcerated, and to make money. Visitors buy them to project an air of subversive coolness, like when Ted Cruz supporters buy T-shirts with the senator drawn shirtless and tatted-up. Consumers can fetishize without having to empathize. By embodying a caricature of either the prison guard or the prisoner, the consumer can benefit from the perceptions of strength invoked by these positions without experiencing the exploitation and abuse those positions actually entail. The goal is not to connect with those who are incarcerated, to learn their stories and perhaps complicate the stark narrative of the carceral state. The goal is masquerade.
While at the gift shop, I did not sign up to become a "Friend of Angola," despite the discounts and other benefits I might have accrued. But I did feel like I needed to buy something to not weird out the clerk. I finally settled on a bottle of hot sauce, the one with the pinstripes, and gave it to my brother. The bottle bore the name of Burl Cain, the warden who oversaw the creation of the museum in the late 1990s and who said in a 2008 deposition that even if Albert Woodfox did not kill Brent Miller he would still want him in solitary confinement because he was "trying to practice Black Pantherism."[efn_note]James Ridgeway and Jean Casella, "Louisiana Attorney General Says Angola 3 'Have Never Been Held in Solitary Confinement,'" Mother Jones, March 23, 2013.[/efn_note] The sauce itself was called Guts & Glory, a nod to an event at the prison rodeo in which a poker chip is tied to the horn of a Brahma bull and several men try to snatch the chip. On the label, at least, the bull looked angry.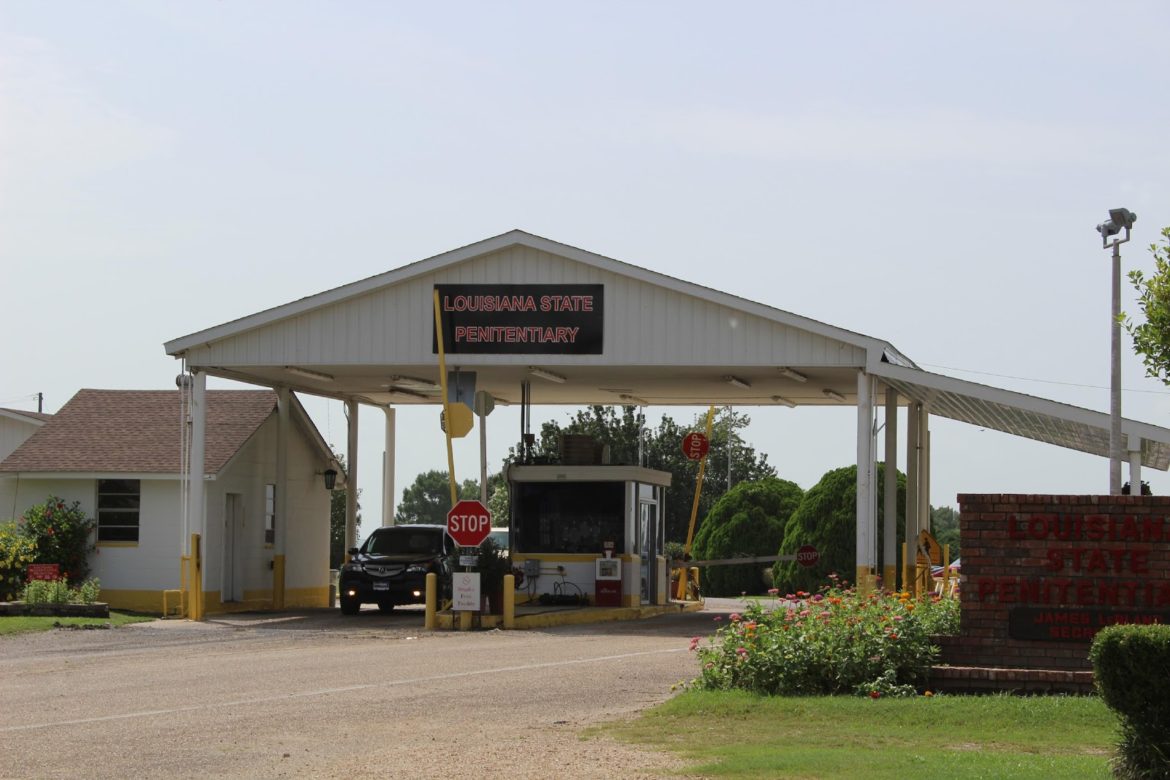 ---
Contingent pays all of its writers. Like what you read? Donate to keep the magazine going. Learn more about our mission.
[donate url="https://donorbox.org/contingent-magazine"]
---